Mazda i-ACTIVESENSE Technology
Blog
What is Mazda i-ACTIVESENSE?
i-ACTIVSENSE is a new generation of active safety technologies that automatically sense the vehicle's environs – from nighttime lighting, to the proximity of other vehicles – and help the driver recognize hazards, avoid collisions and reduce the severity of accidents when they simply cannot be avoided. 
BLIND SPOT MONITORING
Mazda's Blind Spot Monitoring System uses radar sensors to detect objects in your left or right blind spots and then alerts you with a warning light in the appropriate side mirror.
ADAPTIVE FRONT LIGHTING
The Adaptive Front Lighting System provides enhanced nighttime illumination by moving up to 15º in the direction of your turn, allowing you to spot potential hazards ahead.
REAR TRAFFIC ALERT
When backing out from a parking spot, Rear Cross Traffic Alert detects any vehicle approaching from the side and promptly alerts the driver.
LANE DEPARTURE WARNING
The Lane Departure Warning System senses lane markings on the road and alerts the driver when it predicts the vehicle is going to unintentionally depart from its lane.
RADAR CRUISE CONTROL
Mazda Radar Cruise Control monitors the speed of the vehicle ahead and automatically adjusts cruise control settings to maintain a safe headway distance.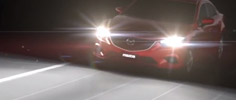 HIGH BEAM CONTROL
Mazda's High Beam Control automatically switches between high and low beams – helping the driver quickly spot pedestrians and other potential obstructions on the road at night.
SMART BRAKE SUPPORT
Detects objects ahead at low speeds and prepares the vehicle to stop by adjusting the brake pads closer to the disc. If no driver action is taken, the system automatically applies the brakes.
OBSTRUCTION WARNING
The Forward Obstruction Warning system detects vehicles ahead and alerts the driver to an approaching risk of collision early enough for the driver to take evasive action.